Cryptocurrency
Vitalik Buterin X Account Hack Highlights Crypto Scam Risks
Ethereum co-founder Vitalik Buterin reportedly fell victim to hacking on social media platform X, resulting in over $691,000 in stolen crypto assets. The incident exemplifies the prevalence of scams as crypto adoption grows.
On September 9, Buterin's X account was compromised and used to share a malicious link, according to blockchain investigator ZachXBT.
Victims who clicked the link and connected their wallets ultimately had their funds drained, with losses exceeding $691,000 so far. CryptoPunk NFTs were among the assets stolen, including CryptoPunk #3983 worth over $250,000.
Buterin's father Dmitry confirmed the hack, tweeting: "Disregard this post, apparently Vitalik has been hacked. He is working on restoring access."
Social Media Accounts Remain Hack Targets
While details remain limited, the incident highlights the ongoing risk of social media account takeovers in crypto.
High-profile individuals like Buterin remain prime targets for hackers. Flawed security practices may also play a role, but social media firms themselves are vulnerable to breaches.
In 2020, a major Twitter hack affected verified accounts like Elon Musk and Joe Biden, spreading a fake bitcoin giveaway.
As crypto adoption increases, hackers continue exploiting vulnerabilities to steal crypto assets and trick users.
Fake Grayscale Account Also Emerges on X
In a separate crypto scam on X unveiled this week, an account posing as Grayscale Investments promoted a fake $25 million token giveaway.
The @Grayscale_FND account used the real company's logo and referenced its popular Grayscale Bitcoin Trust (GBTC) product. But Grayscale confirmed it is not associated with the account.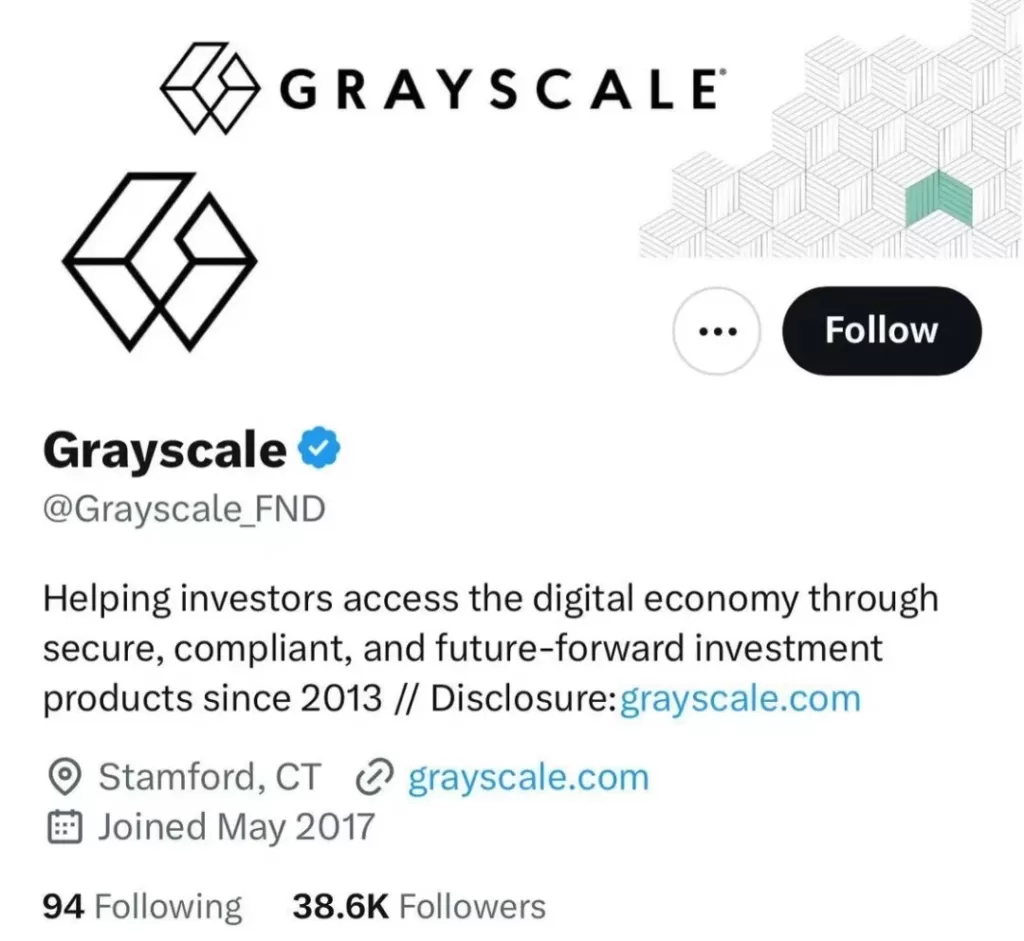 This exemplifies the rise of fake brand accounts on X since verification rules were relaxed under new owner Elon Musk. Previously, blue checkmarks denoted vetted and authentic profiles.
Social Media Fraud Likely to Persist as Crypto Matures
While crypto security and authentication solutions exist, social media scams and hacking persist due to human error and unavoidable system risks.
As crypto expands, its integration with mainstream social platforms will continue to introduce vulnerabilities open to exploitation by fraudsters.
However, greater awareness and education around best security practices can help users safeguard themselves against scams as the crypto ecosystem evolves.
Proactive steps like robust password hygiene, account protections, blocking suspicious accounts and verifying links are key to mitigating risks in crypto's social sphere.